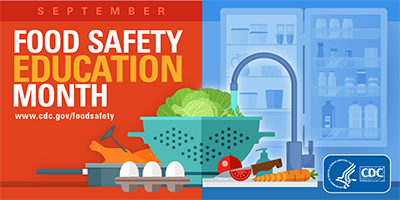 Part of healthy aging is being physically healthy, and nutrition is an important aspect of that. However, one component of nutrition many overlook is food safety. During September, National Food Safety Education Month, many organizations are raising awareness about the steps to take to prevent food poisoning.
Food safety is an important issue for everyone, as the Centers for Disease Control and Prevention provide, "Every year, an estimated 1 in 6 Americans (or 48 million people) get sick, 128,000 are hospitalized, and 3,000 die from eating contaminated food. Some people are more likely to get a foodborne illness (also called food poisoning) or to get seriously ill." (1)
Food Safety and Elders
Although anyone can get food poisoning, there are some groups of people that are more likely to get seriously ill, including children younger than 5 years of age, people with weakened immune systems from medical conditions or treatment, pregnant women, and adults aged 65 and older. (2)
The website FoodSafety.gov states that "Adults 65 and older are at a higher risk for hospitalization and death from foodborne illness…[which means] food safety is particularly important for adults 65 and older." (3) FoodSaftey.gov also provides that:
This increased risk of foodborne illness is because our organs and body systems go through changes as we age. These changes include:

The gastrointestinal tract holds on to food for a longer period of time, allowing bacteria to gro
The liver and kidneys may not properly rid our bodies of foreign bacteria and toxin
The stomach may not produce enough acid.  The acidity helps to reduce the number of bacteria in our intestinal tract.  Without proper amounts of acid, there is an increased risk of bacterial growt
Underlying chronic conditions, such as diabetes and cancer, may also increase a person's risk of foodborne illness. (3)
Food Safety and American Indian and Alaska Natives
Although there have been a few studies on AI/ANs and food safety, most were not statistically significant or they focused more on agriculture and business. However, food safety is still a concern in the AI/AN community, especially for low income populations, children, people with weakened immune systems, pregnant women, and Elders. Unfortunately, there is not a lot of information available about American Indian and Alaska Native (AI/AN) populations and food safety concerns.
Supporting Food Safety Education Month
Some great websites that you can visit to learn more about food safety include:
Sources
Centers for Disease Control and Prevention. (2017, September 06). Food Safety Education Month. Retrieved September 25, 2017, from https://www.cdc.gov/foodsafety/education-month.html
FoodSafety.gov. (2017, September 06). Prevent Food Poisoning. Retrieved September 25, 2017, from https://www.foodsafety.gov/blog/2017/09/prevent-food-poisoning.html
FoodSafety.gov. (2009, August 23). Food Safety for Older Adults. Retrieved September 25, 2017, from https://www.foodsafety.gov/risk/olderadults/index.html