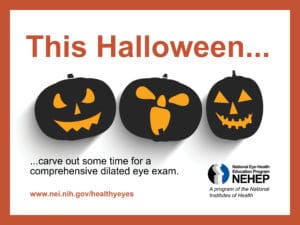 People often notice changes in their vision as they age, but vision loss should not be one of them. Help protect your vision from age-related eye diseases. You can take a positive step toward maintaining good eye health by scheduling a comprehensive dilated eye exam with your eye doctor.
Eye diseases often have no early symptoms.
Everyone age 50 and older should have a regular comprehensive dilated eye examination.
Early detection, treatment, and follow-up care are important to preventing vision loss and blindness
For helpful information on low-vision, glaucoma, diabetic eye disease, and vision and aging, go to The National Eye Institute (NEI). The NEI established the National Eye Health Education Program (NEHEP) to help health and community professionals increase awareness about eye health. NEHEP programs are designed to reach populations at higher risk for eye disease and vision loss and to promote the use of vision rehabilitation services.