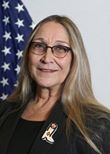 Cynthia LaCounte is a proud member of the Turtle Mountain Chippewa. She has been Director of the Office for American Indian, Alaskan Native and Native Hawaiian Programs since January, 2012. The Administration on Aging (AoA), which is an agency of the Administration for Community Living (ACL), is responsible for programs of social and supportive services for older adults. Ms. LaCounte has oversight for Older Americans Act Programs (OAA) that serve American Indians, Alaska Natives, Native Hawaiians and diverse elders of racial and ethnic heritage. Through her oversight, Tribal Elders and diverse elders of African American, Hispanic, Asian American and Pacific Islander heritage and LGBT elders benefit from OAA Title III and VI Nutrition services, three resource centers dedicated to Tribal populations and the five member National Consortium for Seniors' Equity. While these programs place emphasis on serving Indians and diverse populations, Ms. LaCounte advocates for their access to all OAA programs and resource centers by coordinating with the various ACL programs.
Ms. LaCounte began her work with Tribal Elders in 1976. She has served as Area Agency on Aging Director for the Montana Tribes, and worked as Advocate for American Indian Elders helping to improve their well being by facilitating access to needed social and supportive services in many national, regional and local program areas. Prior to joining the AoA, Ms. LaCounte was the Project Manager for the Title VI Training and Technical Assistance Project through Kauffman and Associates, Inc. Also, she has held the post of Chairwoman for the Trenton Indian Service Area, and served as a national advocate for Tribal Elders.
About the Conference
The 22nd NICOA Conference on Aging in Indian Country will be held at the stunning Pechanga Resort and Casino in Temecula, California from September 10-13, 2018. The theme for the conference is Like the Great Oak, Elders have Strength, Wisdom, Longevity, and Determination. If you are interested in attending, presenting, becoming a sponsor, being an exhibitor, etc. please make sure to visit our conference page at https://www.nicoa.org/biennial-conference/ for all conference forms, information, updates, and online registration.