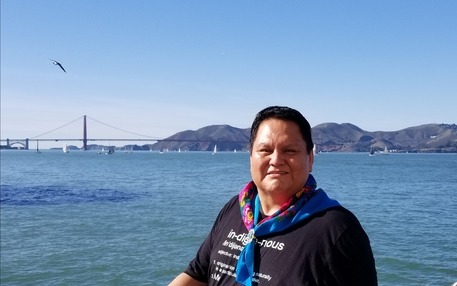 Elton Naswood is of the Near to the Water Clan, born for the Water's Edge Clan. His maternal grandfather's clan is Mexican while his paternal grandfather's clan is Tangle. He is originally from Whitehorse Lake, New Mexico, and grew up in Window Rock, Arizona on the Navajo reservation.
Naswood is a senior program analyst in the capacity building division at the Office of Minority Health Resource Center, a nationwide service of the Office of Minority Health. Previously, he was a capacity building assistance specialist at the National Native American AIDS Prevention Center and was the founder and program coordinator for the Red Circle Project, AIDS Project Los Angeles.
He currently resides in Largo, Maryland, and is a member of the Community Expert Advisory Council for the Indigenous HIV/AIDS Research Training program at the University of Washington, and the U.S. representative leader for the International Indigenous Working Group on HIV/AIDS. Naswood received his Bachelors of Arts degree in sociology and American Indian justice studies from Arizona State University, and attended the graduate degree program in American Indian studies at the University of California in Los Angeles.
"I also would like to acknowledge the Native providers, advocates, and Persons Living with HIV/AIDS (PLWHA) who have inspired me to do this work – individuals like Ron Rowell, Gloria Bellymule Zuniga, Marie Kirk, Lisa Tiger, Shana Cozad, Tommy Chesbro, Isadore Boni, and the many others who have left us like Kory Montoya and Marty Prairie and those who are still among us. Ahe'hee. Thank you.
I have been in the HIV prevention field of work for over 15 years and have had the privilege of working with several agencies (non-Native and Native) including NMAC, AIDS Project Los Angeles, and the National Native American AIDS Prevention Center as well as many county, state and tribal health departments throughout the United States and I have advocated on the behalf of and for the inclusion of Native, LGB/Two Spirit, and transgender individuals and to improve services and resources for disenfranchised populations overall.
In 1997, I lost shi'naii, my older brother, to AIDS-related illness and at the time I knew very little about HIV. I only knew that my brother endured stigma for being a gay Navajo who was also HIV positive on the reservation. These experiences lead me to become an ally for the HIV-positive community and in 2003, I became the founder and program coordinator for The Red Circle Project, a program specifically geared toward HIV prevention and education among Los Angeles' Native American gay, two-spirit, men and transgender women.
My journey with the Circle of Harmony (COH) began in 2007 when I attended my first COH conference in Albuquerque, NM. The experience was amazing, for it was the first time I encountered many Native people working together for a common cause, to prevention HIV for our communities. I got to meet some extraordinary colleagues and friends that have been in this work for many years and continue to be in this field of work. It was during this time, I realized the limited and lack of resources Native agencies were utilizing to save our people. It was also then I knew that it was imperative to continue the advocacy of such pioneers as our dear friend, mentor and colleague, Ms. Marie Kirk.
As I've grown to become such an advocate, I often discuss the HIV infection rates among Native people as a reference that the epidemic is a possible form of genocide among our people. If one Native person is infected and passes on, that person is not only a statistic but rather that person is our relative, our clan member, our tribal member, and the loss is not just that of a person but the loss of a human being, a language, a culture, a people that as a society we can NEVER bring back. In feeling this sense of loss, it is also as a community of Indigenous Peoples whose numbers have been decimated historically and whose very existence continues to be threatened.
Though the resources to address our needs are extremely limited or not addressed at all, I know that there are only a handful of organizations funded to address HIV prevention and care among our Indigenous populations and there are no adequate and culturally appropriate resources to build and sustain capacity for Native agencies. This is NOT equitable. Another important example is that way too often, as Native people, we continuously are referred to as "OTHER" and as "statistically insignificant" by federal, state and local health agencies. This is NOT acceptable. WE ARE A PEOPLE! and should always be respected as A PEOPLE.
We are in interesting times in America, politically, socially and culturally. As a shift in dynamics is occurring, this should also reflect in a change in our values, ideology and human rights to ensure that our identity, culture and survival can carry on for the next Seven Generations. It is important not to miss-classify us or dismiss our needs and continue to advocate for inclusion and representation at all levels because protecting life is a task entrusted to each and every one of us.
The year's COH conference will allow us to continue this journey together and give us opportunities to have these important conversations of inclusion, advocacy and responsiveness and on the final day of the conference devoted to discussions with the National Native HIV/AIDS Leadership Network. I hope to see all my relatives at this only Native focused HIV conference in the Nation representing all our relations."
Reprinted from Circle of Harmony HIV/AIDS Wellness Conference.