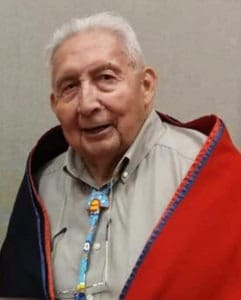 Gary Evans (Zone-Cui) Kodaseet, of Anadarko, Oklahoma, passed away on November 28 in Oklahoma City with his family by his side. Gary was an interim director at the National Indian Council on Aging in the 1980s, and an enrolled member of the Kiowa Tribe of Oklahoma. He enjoyed fishing, emceeing dances, and watching the Dallas Cowboys, Texas Rangers, and Oklahoma Sooners.
Gary was born on February 5, 1936, at the Kiowa Indian Hospital in Lawton, Oklahoma. He was one of eight children and the firstborn son to Frank and Lilly (Botone) Kodaseet.
He started school at Mountain View and attended West Elementary and St. Patrick's Mission when his family moved to Anadarko. In his junior year he enrolled at Haskell Institute in Lawrence, Kansas, and became a lifelong supporter of the school. In 2002 he was selected as an Outstanding Haskell Alumnus and later served on the Haskell Indian Nations University Board of Regents.
After graduation from Haskell, Gary joined the U.S. Marine Corp. His experiences in the Marines and the people he met remained treasured memories. He was a proud member of the Native American Marine Association.
After receiving an honorable discharge, he spent 11 years in the defense industry and five years with the U.S. Postal Service. It was at this time he decided to further his education, attending the University of Oklahoma and later transferring to Oklahoma College of Liberal Arts (OCLA). While at OCLA he presided as the student senate president and was on the Dean's Honor Roll.
After graduating from OCLA, now known as the University of Science and Arts of Oklahoma, he began a long career serving American Indians. He started in San Diego as the assistant director for the Urban Indian Center before becoming the executive director at the Denver Indian Center in 1975.
It was there that he rediscovered childhood friend, Frances Cussen. After a three-year courtship, each pursuing their own careers, they married on August 26, 1978. Always frugal, Gary combined their honeymoon with a pre-paid bowling trip in Las Vegas, Nevada.
In 1978 he accepted a position with the federal government as a specialist for the Administration for Native Americans in Dallas. After a two-year detail in Washington, D.C., he returned to Dallas as an aging services project specialist for the regional office.
Gary's work ethic and determination did not go unnoticed. He received the Outstanding Service Award for Region VI, the Health and Human Services Assistant Secretary's Award for Leadership, and the Health and Human Services Secretary's Award of Excellence. He was also awarded numerous tokens of appreciation from the tribes he served in Region VI.
Gary became a member of the Kiowa Gourd Clan as a young man and enjoyed participating in the Fourth of July encampment and benefits. In 1981 he was selected to serve as an officer of the Kiowa Gourd Clan and was secretary of the organization for over 20 years. He was also a member of the Kiowa Ton-Kon-Gah Black Legging Warrior Society and was affiliated with the Kiowa Native American Church through his grandfather, Moses Botone.
Gary was predeceased by his parents; son, Kevin Kodaseet; sisters, Catherine Kodaseet and Patricia Kodaseet Burgess; brothers, Gilbert Kodaseet and Edward Harrison Kodaseet; grandsons, Frank Williams, Zachery Two Lances Kodaseet, Henry Wetselline, and Lonny Williams. He is survived by his wife, Frances Cussen Kodaseet; sisters, Charlene Bolinsky, Mary Frances Carter, and Marilyn Bread; children, Teresa Murray (Michael), Shannon Freeman (Mike), Michael Kodaseet (Katie), Kearston Freeman, Francine Williams (Leonard), Elaine Matanane (Juan), and Francey Freeman; numerous grandchildren, great-grandchildren, nieces, and nephews. Information originally published by The Oklahoman.