The National Indian Council on Aging (NICOA) held its national American Indian Elders Conference in Reno, Nevada on August 16-20, 2021. It was a long-awaited gathering for tribal elders from around the country. The elders renewed old friendships, made new ones and had an opportunity to learn what was happening in the field of aging. The last conference had been held in Pechanga, California in 2018. In the years since, Indian Country entered a new world with new issues and a re-awakening of how we, as American Indian and Alaska Natives, reshaped our own destinies.
In this new world, we have a silent enemy — the pandemic which we are still currently living through. In this new environment, Indian Country exercised their sovereignty in dealing with the pandemic; a dysfunctional government of last four years; and the realization of the priceless value of our tribal cultures, histories, wisdom and languages held by our elders. And finally, a new administration which shaped policies to repair bridges, repair highways, expand the internet and broadband to Indian Country.
We are now on the brink of a new year and at this time of year, we as Native people will offer prayers and perform blessing ceremonies that the new year which awaits us is a journey into wellness and peace. For the fortunate few that attended our conference, we hope it offered an opportunity to see old friends, make new friends and to remember those we have lost. For those who are waiting for the next conference, we wish you good health and may the spirit of the season envelop you and bring you joy in the years ahead.
To our tribal leaders who have remained steadfast and strong in taking care of our precious natural resource — our elders — we, at the National Indian Council on Aging, thank you. And to all who have taken care of and protected our elders in this new environment — Title VI directors, community health representatives, youths, law enforcement and many others — our appreciation and a heartfelt thank you.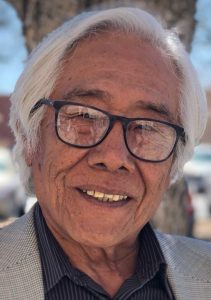 It has been an honor to work with the NICOA staff, NICOA board, the national Indian organizations and the national aging network during the past three years. We have accomplished much, but much more remains to be done on behalf of our elders. The prayers and support you have provided is immeasurable and we look forward to your continued support and your contributions which have enabled us to advocate on behalf of our elders for the last 46 years.
May the new year and season bless you all!
Larry Curley
Executive Director