The risk of the elderly falling is a bigger risk than most people realize. According to the CDC, each year, one in every three elders age 65 and older falls. Falls can cause moderate to severe injuries, such as hip fractures and head traumas, and can increase the risk of early death. One in four Americans over the age of 65 falls every year. Fortunately, falls are a public health problem that is largely preventable.
Falls are the leading cause of injury deaths for American Indian elders age 65 and over, according to the Centers for Disease Control's Web-based Injury Statistics Query and Reporting System. American Indian and Alaska Native elders report the greatest percentage of falls (34.2 percent) of all races/ethnicities. A 2012-2016 survey by the New Mexico Behavioral Risk Factor Surveillance System found that one in three American Indian elders age 45 and over in New Mexico fell at least one time in the past 12 months, and that 45 percent of those who fell were injured.
Additionally, American Indian and Alaska Natives experience health disparities that can potentially increase the risk and rate of falls and fall-related injuries. They have a greater burden of chronic disease, along with a lower life expectancy. More than 30 percent of American Indian and Alaska Native elders reported at least one form of heart disease in 2012, while only 10.9 percent of non-Hispanic whites did in the same period.
American Indian and Alaska Natives have the highest rate of Type 2 diabetes in the U.S. and are over twice as likely to be diagnosed with Type 2 diabetes than non-Hispanic whites. Diabetic neuropathy can contribute to falling due to a loss of feeling in the lower extremities. Diabetes can also increase the chance of having osteoporosis, leading to a higher risk of injuries and fractures from a fall. Furthermore, the higher rate of many other chronic illnesses in the American Indian population increases the risk of dying from a fall when one does occur.
"It is important to help our elders have safe access to staying active – we can all work together to achieve this, by observing the home our elders live in and the community they walk in. We must ask ourselves, are there obstacles that we, the community can work together to fix or improve? We must take the lead at making our communities safe and accessible because it is for our Elders and our children that we live and hope to make things better," states former NICOA executive director Randella Bluehouse.
Jerrod Moore, Tribal Injury Prevention Resource Center (TIPPC) Manager at Albuquerque Area Southwest Tribal Epidemiology Center, and TIPPC Coordinator A. Sixtus Dominguez, detail the importance of stretching and staying active for elders.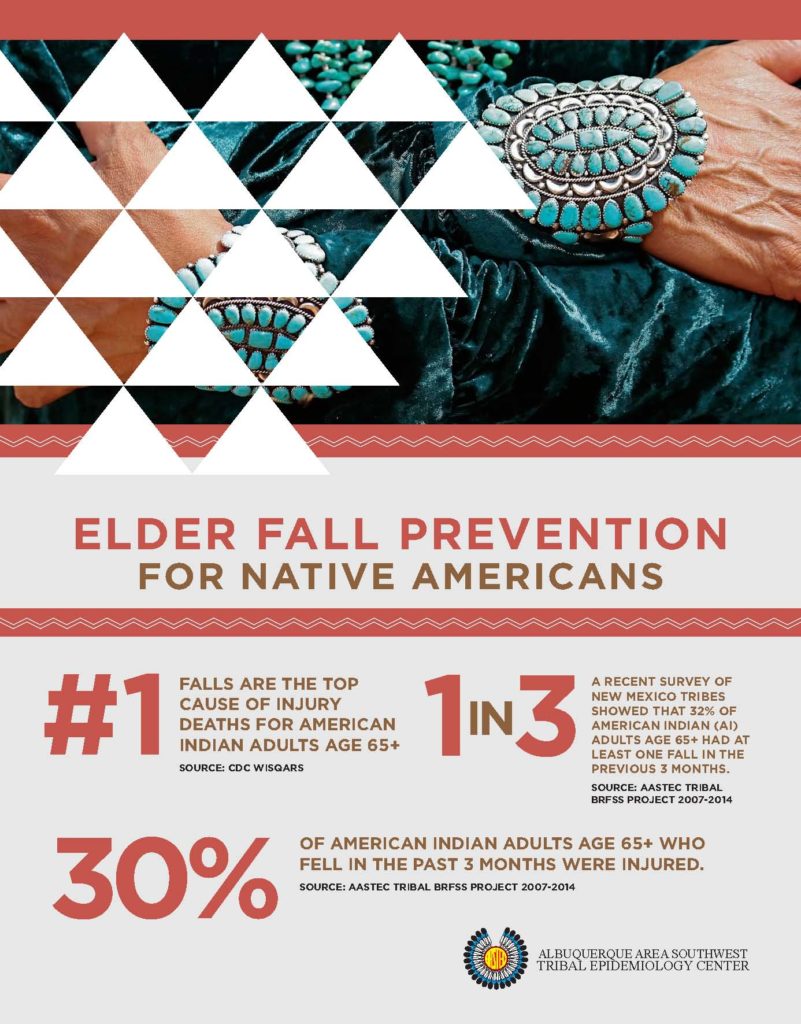 More than 90 percent of elders have at least one chronic condition like diabetes, stroke or arthritis. Often, these increase the risk of falling because they result in lost function, inactivity, depression, pain or multiple medications. Taking any medication may increase your risk of falling. Medications affect people in many ways and can sometimes make you dizzy or sleepy. Be careful when starting a new medication. Talk to your health care provider about potential side effects or interactions of your medications.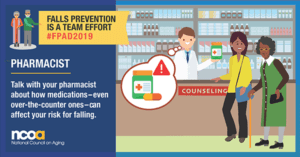 Strength and balance exercises, managing medications, having your vision checked and making your living environment safer are all steps you can take to prevent a fall. Some people believe that the best way to prevent falls is to stay at home and limit activity. However, performing physical activities help you stay independent, as your strength and range of motion benefit from remaining active. Exercise can partially restore strength and flexibility and help with the muscle loss that comes with age.
Active elders are less likely to have a serious injury after having a fall. Maintaining an active lifestyle by participating in physical activity, such as Senior Games sports, can lower your risk of falling. According to the Senior Athlete Research Exam, conducted in conjunction with National Senior Games since 2011, only 10 percent of Senior Games participants report falling within a year. This is one-third the rate of their age peers.
Vision is another key risk factor for falls. Aging is associated with some forms of vision loss that increase the risk of falling and injury. People with vision problems are more than twice as likely to fall as those without visual impairment. Have your eyes checked at least once a year and update your eyeglasses. There are programs and assistive devices that can help those with low vision. Ask your optometrist for a referral.
Remember that using tint-changing lenses can be hazardous when going from bright sun into darkened buildings and homes. A simple strategy is to change glasses upon entry or stop until the lenses adjust. Bifocals also can be problematic on stairs, so it's important to be cautious. For those already struggling with low vision, consult with a low-vision specialist for ways to make the most your eyesight.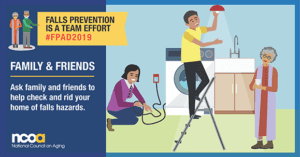 Over half of all falls take place at home. There are many simple and inexpensive ways to make a home safer. Inspect your home for fall risks and fix simple but serious hazards such as clutter, throw rugs and poor lighting. Make simple home modifications, such as adding grab bars in the bathroom, a second handrail on stairs and non-slip paint on outdoor steps.
Increase lighting throughout the house, especially at the top and bottom of stairs. Ensure that lighting is readily available when getting up in the middle of the night. Make sure there are two secure rails on all stairs and install grab bars in the tub/shower and near the toilet. Make sure they're installed where you would use them. For even greater safety, consider using a shower chair and hand-held shower.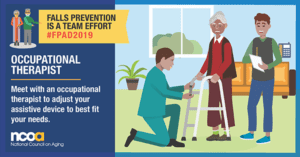 Walking aids are very important in helping many elders maintain or improve mobility. Notice if you are holding onto walls, furniture or someone else when walking or if you have difficulty walking or arising from a chair.
These are all signs that it might be time to see a physical therapist. A physical therapist can help you improve balance, strength and gait through exercise. They can also fit the walker or cane to the user and instruct them in its safe use.
Fall Prevention Awareness Day was first established in 2008 by the National Council On Aging's (NCOA) Falls Free® State Coalitions, which requested that a national Fall Prevention Awareness Day be observed on the first day of fall. In response, the National Advocacy Workgroup gained bipartisan sponsorship of the first annual National Fall Prevention Awareness Day resolution in the U.S. Senate and has obtained bipartisan sponsorship every year since. The number of states observing Fall Prevention Awareness Day grew from four in 2007 to 11 in 2008, 22 in 2009, 36 in 2010, 43 in 2011, 46 in 2012, and 47 in 2013, 48 in 2014 and 48 in 2015.
National, state and local partners use this time to educate others about the impact of falls, share fall prevention strategies, conduct fall risk screenings and advocate for the expansion of evidence-based community fall prevention programs. National and state efforts are published in NCOA's annual Fall Prevention Awareness Day Impact Report.
If you would like to learn more about fall prevention efforts in your state, please contact your State Fall Prevention Coalition lead. You can find partners and host locations as well as an evidence-based fall prevention program in your area.
Fall-related deaths
The death rates from falls among elders have risen sharply over the past decade.
In 2010, about 21,700 elders died from unintentional fall injuries.
Men are more likely than women to die from a fall. After taking age into account, the fall death rate in 2010 was 40 percent higher for men than for women.
Older whites are 2.4 times more likely to die from falls as their black counterparts.
Rates also differ by ethnicity. Older non-Hispanics have higher fatal fall rates than Hispanics.
Fall injuries
People age 75 and older who fall are four to five times more likely than those age 65 to 74 to be admitted to a long-term care facility for a year or longer.
Rates of fall-related fractures among elder women are more than twice those for men.
Over 95 percent of hip fractures are caused by falls. In 2010, there were 258,000 hip fractures and the rate for women was almost twice the rate for men.
White women have significantly higher hip fracture rates than black women.