Learn More About Keynote Speaker:
Lance Robertson, Assistant Secretary for Aging, Administration for Community Living

Lance Robertson is the Assistant Secretary for Aging at the Administration for Community Living, appointed on August 11, 2017. Administrator Robertson has a significant background in the aging community, including serving at the Director of Aging Services at the Department of Human Services in Oklahoma, serving as the Executive Director of the nation's largest regional gerontology association, and as co-founder of the Gerontology Institute. Administrator Robertson is also a veteran of the United States Army. (1)
Administrator Robertson's vision for the Administration for Community Living "focuses on five pillars: supporting families and caregivers, protecting rights and preventing abuse, connecting people to resources, expanding employment opportunities and strengthening the aging and disability networks." (1)
As National Indian Council of Aging (NICOA) Executive Director Randella Bluehouse states:
Administrator Robertson has worked effectively with a diverse staff and aging networks to provide critical aging services and supports to elders across the state. His years of experience and training in public administration has qualified him as an authoritative subject matter expert who brings a tremendous depth of knowledge of the aging and disability networks. Most notable to NICOA is his ability to work with the tribes of Oklahoma. Administrator Robertson has proven his ability to work with the tribes in Oklahoma which are often rural and unserved or underserved. His insight into the unique challenges facing American Indian communities in Oklahoma makes NICOA confident that he can bring that same commitment to filling the gaps in services that our communities struggle with every day across Indian Country.
About the Conference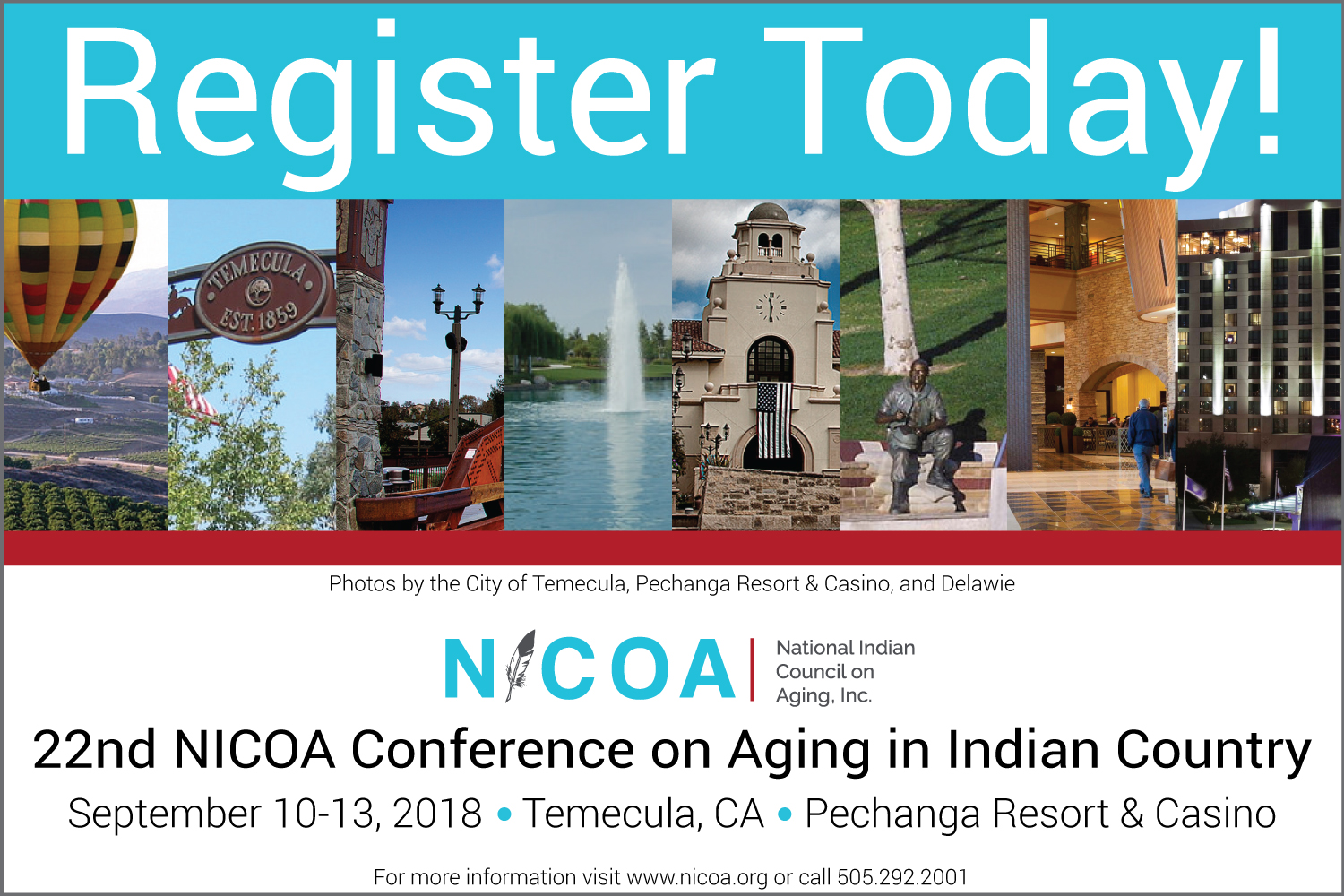 The 22nd NICOA Conference on Aging in Indian Country will be held at the stunning Pechanga Resort and Casino in Temecula, California from September 10-13, 2018. The theme for the conference is Like the Great Oak, Elders have Strength, Wisdom, Longevity, and Determination. If you are interested in attending, presenting, becoming a sponsor, being an exhibitor, etc. please make sure to visit our conference page at https://www.nicoa.org/biennial-conference/ for all conference forms, information, and updates, and now with the option for attendees and exhibitors to register online.
We are honored to host our event among the people now known as Luiseño Indians whom have inhabited the Temecula Valley for thousands of years. They call themselves Payómkawichum (the People of the West), and are made up of seven bands: Pechanga, Pauma, Pala, Rincon, San Luis Rey, La Jolla, and Soboba. The Pechanga Band of Luiseño Indians has called the Temecula Valley home for more than 10,000 years. Attendees will have the pleasure to meet the Pechanga Elders and learn about their local Silver Feathers – Elders' Council and the significant role they continue to hold within their tribal community.
Source
U.S. Department of Health & Human Services. (2017, November 22). Lance Robertson. Retrieved July 9, 2018, from https://www.hhs.gov/about/leadership/lance-robertson/index.html