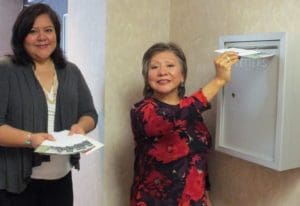 For immediate Release
Contact: Ms. Randella Bluehouse, Executive Director, National Indian Council on Aging
Phone: 505-292-2001 Email: rbluehouse@nicoa.org
Today, NICOA delivered 158 comments to the Administration for Community Living (ACL), asking the Administration to ensure that American Indians, Alaska Natives, and Native Hawaiians (AI/AN/NH) receive fair and equal aging and support services where they live.
Each state is required to submit a state plan on aging to ACL. This plan is evaluated by ACL to determine if each state is meeting the requirements of the Older Americans Act as well as developing long term services and supports within the state. The ACL guidance is to help each state craft a state plan that is inclusive of all diverse populations, AI/AN/NH, and LGBT elders.
The comments from NICOA members and allies were collected as part of a collaborative effort facilitated by the Diverse Elders Coalition, a coalition that advocates for policies and programs that improve services and supports to American Indian/Alaska Native elders, Asian American/Pacific Islander elders, Black elders, Hispanic elders, and LGBT elders. NICOA is one of five national member organizations of the Diverse Elders Coalition.
"We are excited by the response received from our community advocates. They want to ensure that the ACL's guidance to state plans meets the needs of our communities," said Randella Bluehouse, Executive Director of NICOA. "The ACL's proposed guidance is a step in the right direction, and we expect that the recommendations we submit will be incorporated into the ACL's final guidance to ensure that our members have access to the aging services and supports where they live."
Comments from NICOA members and allies:
"Elder Abuse seems to be occurring more frequently and our tribal elders don't know how or what to do. They are too embarrassed to report it. We do not have a specific person employed by the tribe to deal with this problem."
"Our meals make such a difference. There are several elders that are homeless, diabetic, or failing and the balanced meals I serve keep the elders healthier for a longer period of time, sometimes it is the only meal they have all day."
"A great deal of our Native American Elders living on rural reservations have much more needs but resources available through the state systems are not equally and fairly allocated to our elders."
Members of the Diverse Elders Coalition submitted more than 2,000 comments to the ACL today, a meeting request to discuss these comments in greater depth will be submitted to the ACL this week. We need resources and services to assist our elders.