Dear Friends and Relatives,
Nearly five decades ago, tribal leaders founded the National Indian Council on Aging (NICOA) to serve the needs of American Indian and Alaska Native elders. That vision to advocate for our elders and improve aging services across Indian Country still drives our mission today.
The times we live in have been confusing, challenging, and heartbreaking. Despite a global pandemic, NICOA has continued to strive towards achieving our goals via our five-year strategic plan. We're grateful for the support of our members, tribal leaders, partners, and the aging community. Together, we have and will continue to listen, learn, and make progress in bettering elder lives.
Our work this past fiscal year has impacted many. Despite being delayed for a year, our biennial conference in Reno was well attended with good fellowship and interesting presentations. Our partners such as the International Association for Indigenous Aging (IA2) and the Diverse Elders Coalition (DEC) have helped us extend our reach across Native America, raising awareness of brain health and the needs of Native caregivers. Seen as a trusted national representative, NICOA provided testimony during a U.S. House Committee on Natural Resources. Our Senior Community Service Employment Program (SCSEP) also provided an important resource during this difficult time for hundreds of elders, with job training and a skilled team supporting every elder working towards success.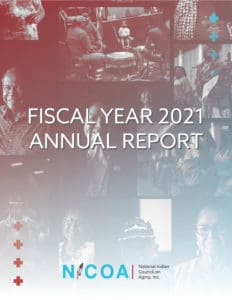 Our websites and social media also have been a valuable resource for those seeking information on health, nutrition, financial capability, elder abuse prevention and more. In addition, we launched our first-ever national campaign addressing social isolation and loneliness. With targeted videos and radio PSAs we reached elders and their families in Indian Health Service waiting rooms and on tribal radio stations. Our Tribal Long Term Services and Supports (LTSS) Compass website is continually being updated to serve as a clearinghouse to help those who need information about aging services in our communities.
Please take a look at our report to see our accomplishments and read about what we are working on to ensure your communities continue to receive the resources and support they deserve as NICOA founders intended. We thank you for your steadfast commitment to support, listen, and learn from Native elders. Their wisdom and guidance is crucial as we build our community to include all in Indian Country.
Sincerely,
Larry Curley
Executive Director of NICOA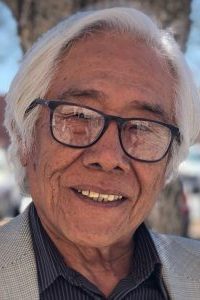 Billie Tohee
NICOA Board President