Don't miss AMERIND's 17th Annual Protecting Tribal Families Golf Fundraiser on Wednesday, April 27 at the Santa Ana Golf Club (288 Prairie Star Road) in Santa Ana Pueblo, New Mexico. The National Indian Council on Aging (NICOA) will be participating in this fundraising golf tournament, which takes place a day before the Gathering of Nations pow-wow in Albuquerque, New Mexico. We'd love for you to join us by playing. Click here to register for the fundraiser!
"This is an opportunity for people to exercise and meet other individuals who have a driving passion to support American Indian and Alaska Native elders," said Larry Curley, executive director of NICOA. "NICOA is the only Native American organization who advocates and educates on the needs of our elders. These elders are living encyclopedias on the history, culture and language of Indian people. This tournament allows NICOA to continue to ensure the continued existence of Indian tribes in this country."
If you can't play, please consider donating an item for the raffle. This fundraiser will benefit AMERIND's Protecting Tribal Families Fund as well as NICOA.
NICOA is proud to be a beneficiary in this event. This fundraising event has raised more than $100,000 for tribal families in Indian Country. Everyone is invited to participate. Check-in start time is 7:30 a.m. MST and event start time is 9 a.m. MST.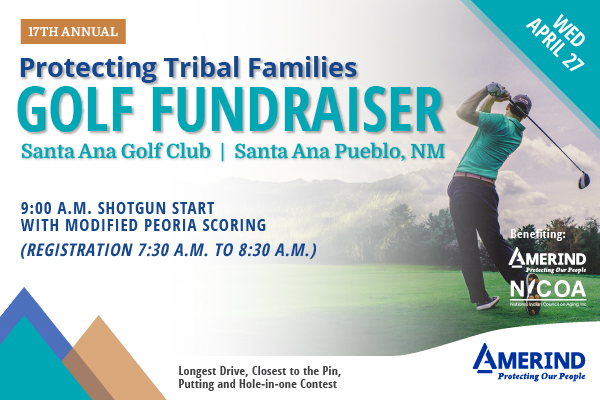 As part of our agreement to do our part in helping to raise money and defray costs we are also seeking sponsors. If your organization would like to support us by sponsoring our golf fundraiser, please click here to review the sponsorship benefit levels. We also welcome in-kind sponsorships such as gift cards and raffle items. Your contribution will not only benefit NICOA but will provide you with additional exposure through AMERIND's direct network of tribal professionals throughout Indian Country.
AMERIND's Protecting Tribal Families Fund assists American Indian families without homeowners' insurance who have experienced a devastating loss or unforeseen disaster. AMERIND was founded 35 years ago and is the only 100 percent tribally owned and operated insurance provider committed to Indian Country.
Over 400 tribes united and pooled their resources to create AMERIND to keep money within Indian Country. AMERIND provides property, liability, auto, and workers' compensation insurance for tribes, tribal governments, tribal businesses, as well as individual property coverage, employee benefits, and helping tribes obtain state of the art broadband connectivity. Click here to learn more about AMERIND. For questions about AMERIND or the event, contact Audrey Gachupin at 505-404-5000 or event@amerind.com.
I hope you'll join us for this fun and rewarding event! Please consider a sponsorship, donating a raffle item or signing up to play today. Or consider donating to us directly to help us with our mission to improve health, social services and economic wellbeing for all American Indian and Alaska Native elders. Your financial support will go directly toward supporting additional programs, special events and new features. And please share on your social media accounts to help us get the word out.